Relax and Enjoy Nature.
The Future of Outdoor Cooking
MAKE HOT FOOD AND DRINKS.
Perfect for Weekend Trips
Cook Electric.
Backcountry Cooking with USB-C Power
Plug into a car, generator, or battery.
Perfect for Road Trips - Hot Meals & Drinks
NO FIRE. NO FLAME. NO FUEL.
Safe and Super Easy to Use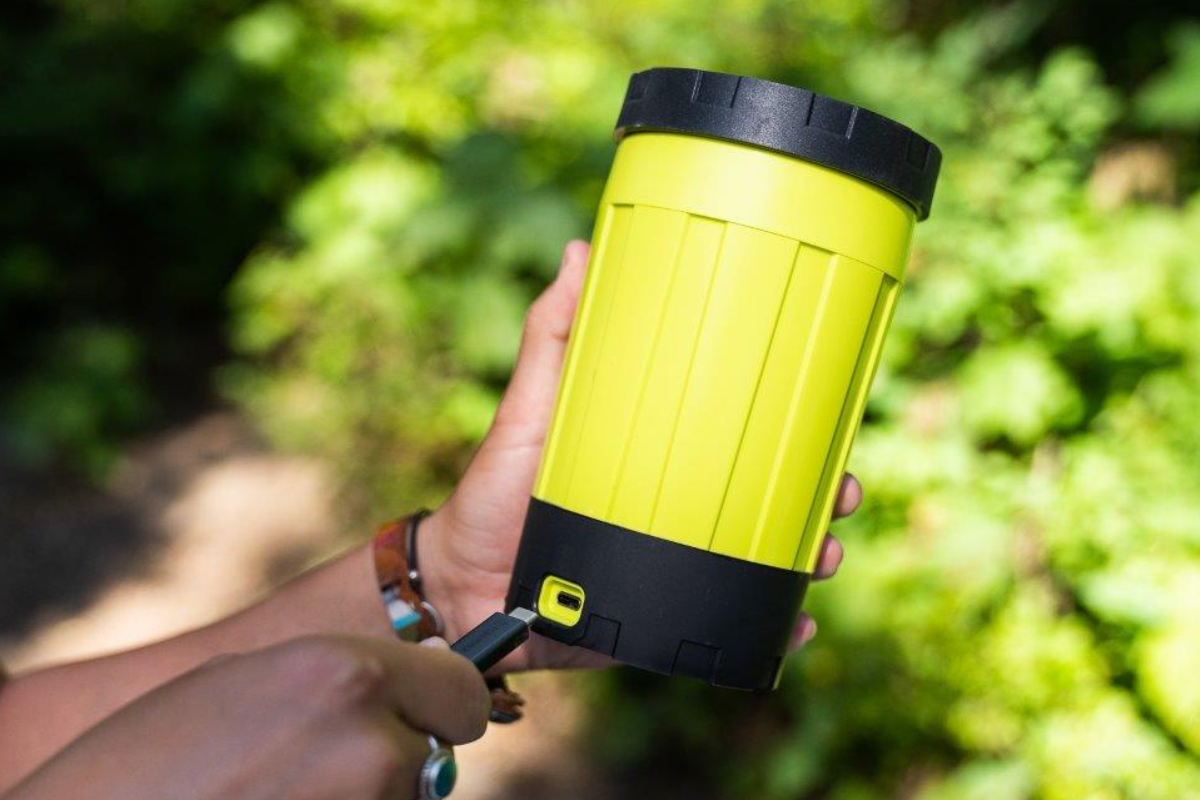 Using EcoSimmer
SIMPLY PLUG IT INTO A USB-C POWER SOURCE. NO MATCHES, NO FIRE, NO FOSSIL FUEL. ECOSIMMER WILL AUTOMATICALLY POWER OFF WHEN AT BOIL. IT'S THAT SIMPLE.
How to Power
ECOSIMMER IS COMPATIBLE WITH MOST 100W+ USB-C BATTERIES, POWER BANKS, AND AC/DC CHARGERS. A 100WH BATTERY (27K MAH) GENERALLY MAKES 3 MEALS AND WEIGHS ~1.4 lbs.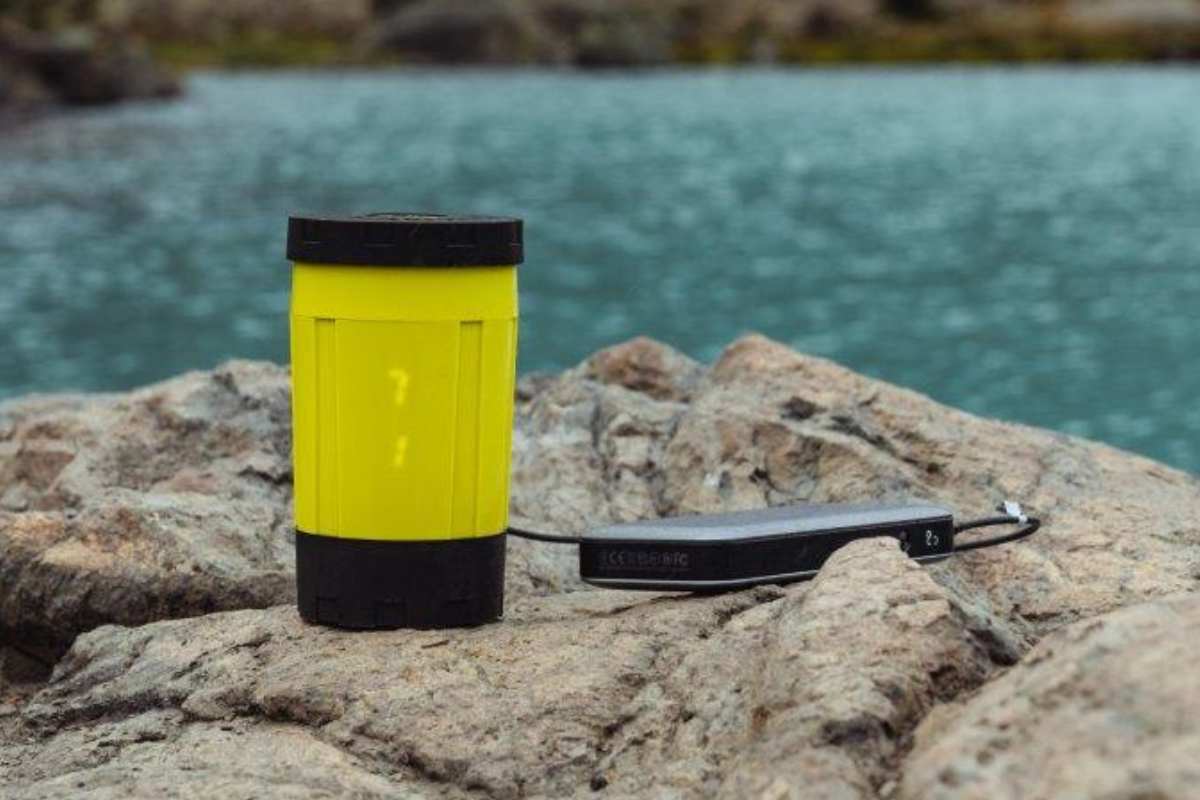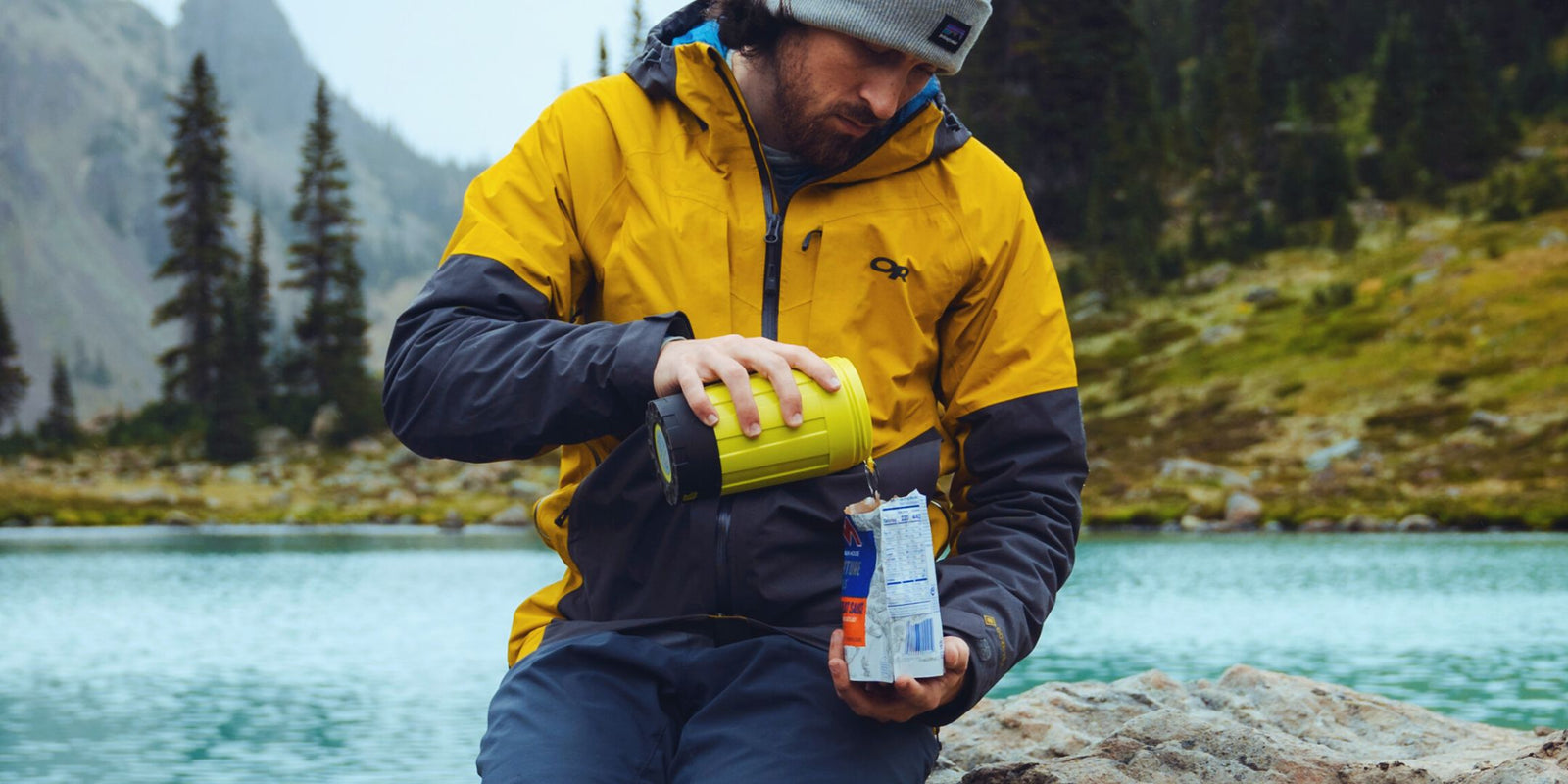 Cooking Time
DIFFERENT MEALS AND DRINKS REQUIRE DIFFERENT AMOUNTS OF WATER AND DIFFERENT TEMPERATURES. A CUP OF COFFEE CAN 10 MINUTES, WHEREAS BOILING 2 CUPS OF WATER FOR A DEHYDRATED MEAL CAN TAKE 30 MINUTES.
Let's be upfront about a few things
The Electric Value Prop
Electric is Safe. USB-C is versatile.
With no fire, no flame, and no fuel, the risk of injuring yourself or of starting an accidental fire is minimized. With no fumes emitted, EcoSimmer is safe to use inside your ten too!
EcoSimmer can be used with dozens of compatible 100W USB-C batteries, power stations, AC wall chargers, or DC car chargers. The list grows every year. Most batteries will even tell you exactly how much charge you have (e.g. how many boils or meals).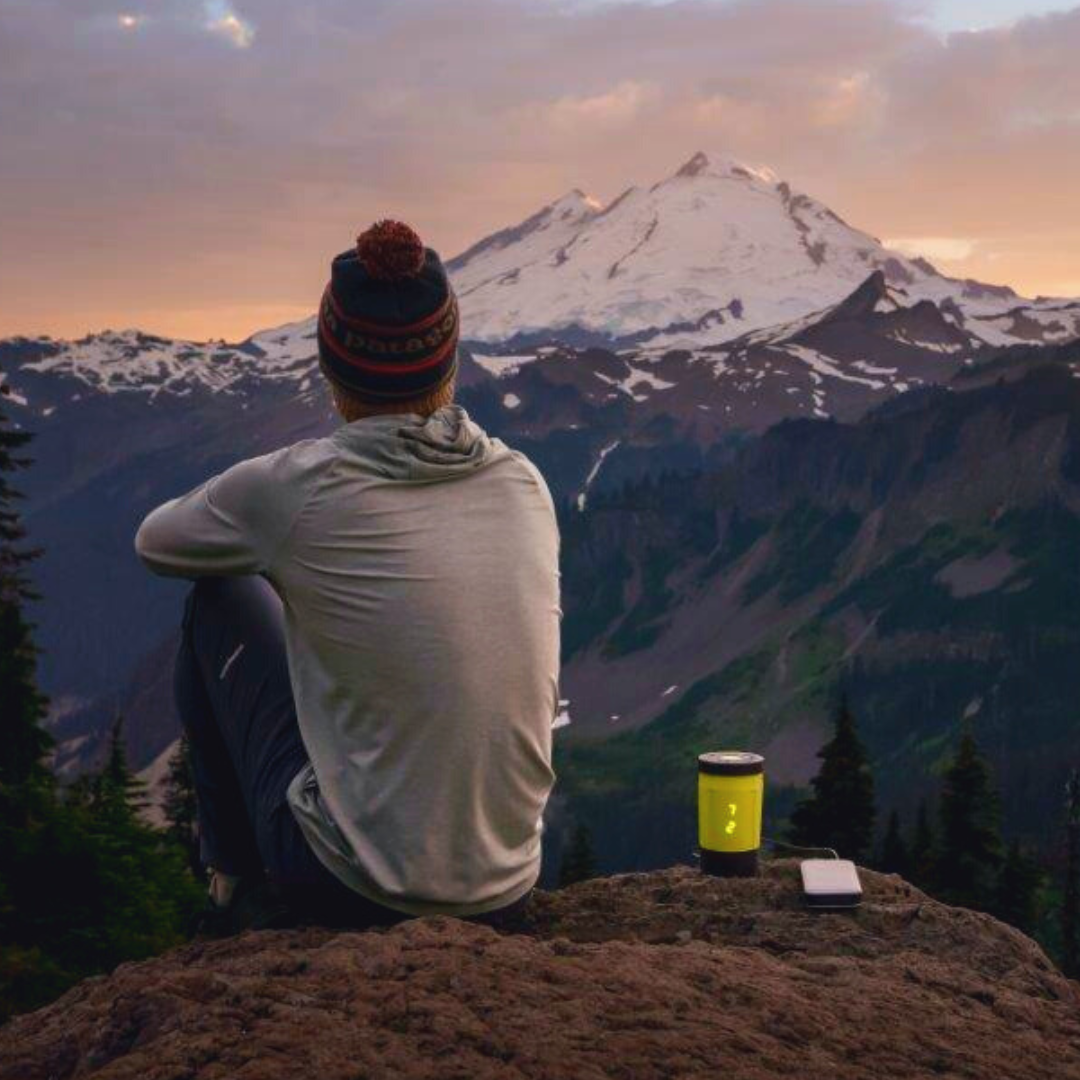 Slower than gas stoves is OK.
Gas stoves operate around 2,600W and can boil in minutes. EcoSimmer operates at 100W. Fast is great, but EcoSimmer operates autonomously, turning itself off once a boil is reached. EcoSimmer can make a cup of coffee in 10 mins or bring 2 cups of water to a boil in 30 mins.
Stop worrying about balancing pots and supervising gas stoves. Just plug in EcoSimmer and spend your time setting up camp or enjoying sunset. There's no rush.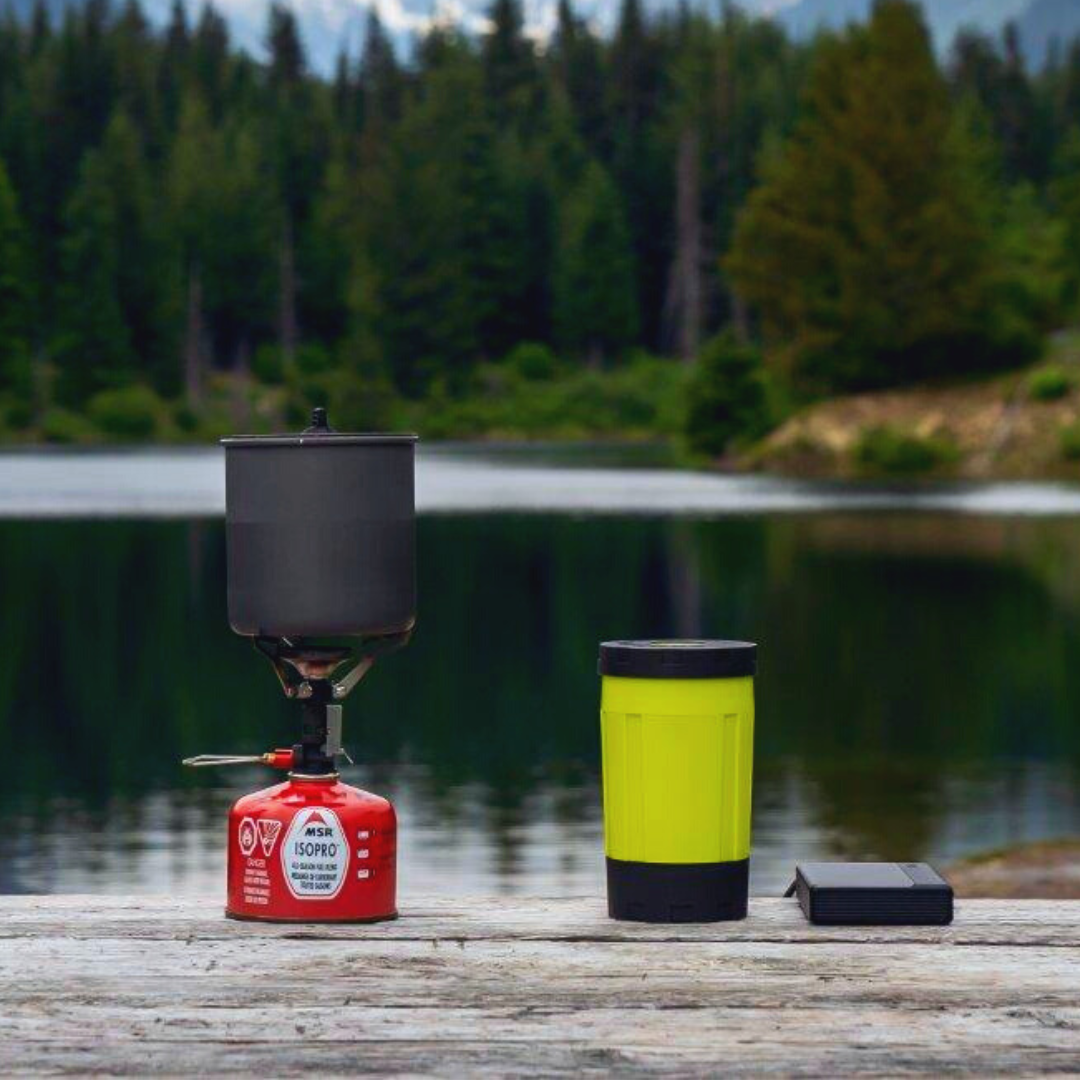 The weight tradeoff is small.
Electric batteries weigh more than small gas canisters. But you're probably already bringing a battery on backpacking trips for your phone and other devices—now you just need a larger one for your stove.
Each 100 Wh battery weighs ~1.4 lbs. The incremental weight for EcoSimmer +2 batteries (vs stove, gas canister, & pot) is ~1.7 lbs. Split across 2 people that's less than 1 lb each across 20-30 lb backpacks.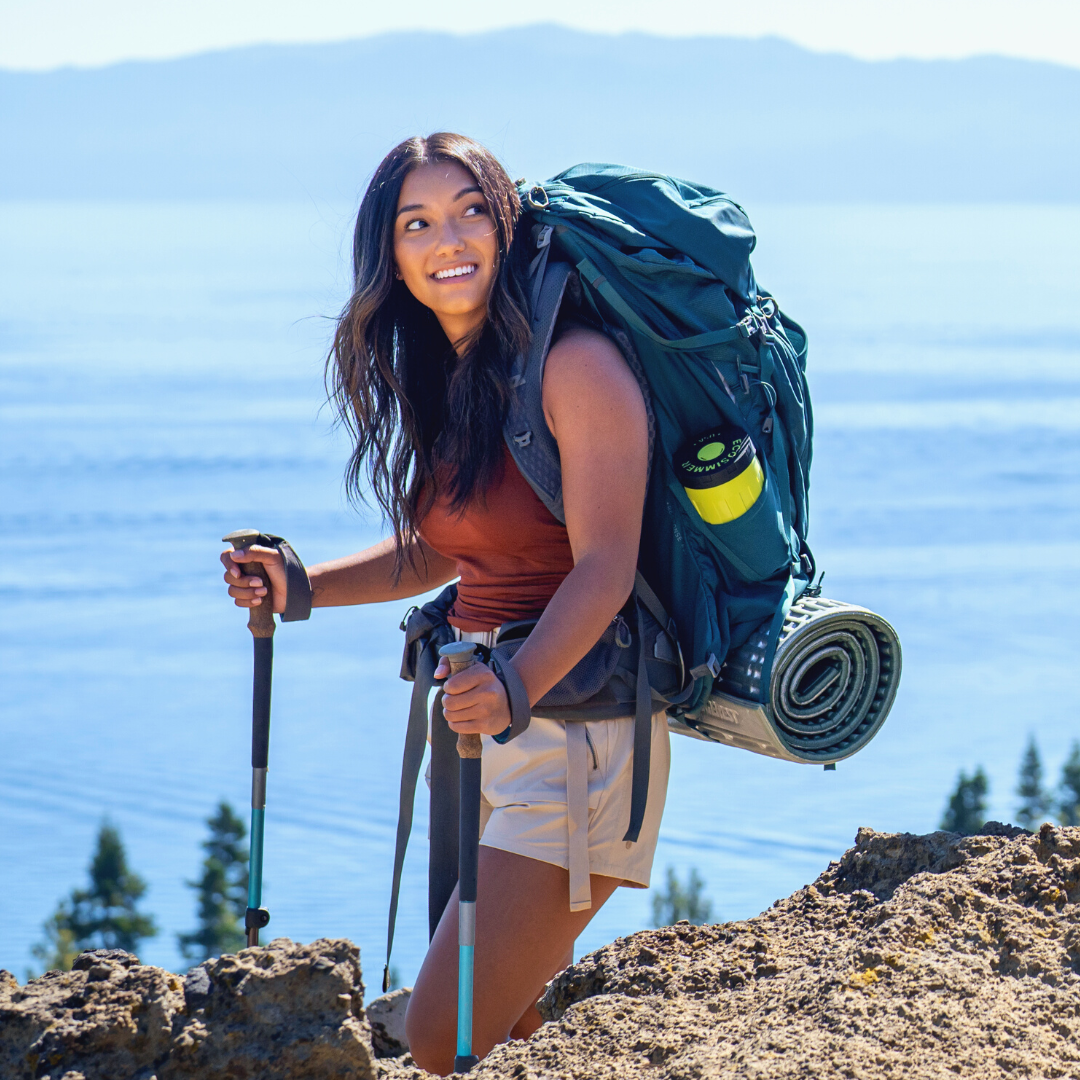 Great for weekend backpacking trips.
It's important to match trip goals with the correct equipment. If you want to maximize mileage covered or days on trail, or to minimize pack weight, then gas stoves are probably better suited to you. If your goal is enjoy a 1-3 night trip without complex stoves or having to play with fire, then EcoSimmer may be better suited to you. Go ahead and bring that luxury item too—a chair, fishing rod, or camera—to help you relax while EcoSimmer cooks.
Our Promise
Clean Climbing to Clean Cooking
50 years ago in 1972, Yvon Chouinard, the founder of what is now Patagonia, rocked the climbing world by launching the era of "clean climbing". He made the decision to phase out the metal pitons that were damaging the rocks they were climbing, in favor of removable chocks that were easily removed and less damaging to the rock. This taking of eco-friendly actions to preserve the environment was an early example of what is now known as "leave no trace" and instrumental in protecting the wilderness.

Today with forest fires threatening the backcountry, we need to take similarly strong steps. You can help drive environmentally responsible action by using products like EcoSimmer that eliminate the need for fire, flame, and fossil fuel in the backcountry and to help preserve our wilderness areas for future generations.
Don't take our word for it:
It was cold and raining on us, but I was able to stay dry making dinner in my tent with EcoSimmer.
I made hot coffee without leaving my sleeping bag. It was lovely.
On fly fishing trips I keep my EcoSimmer on the shore so I have some hot coffee to keep me going on the river.