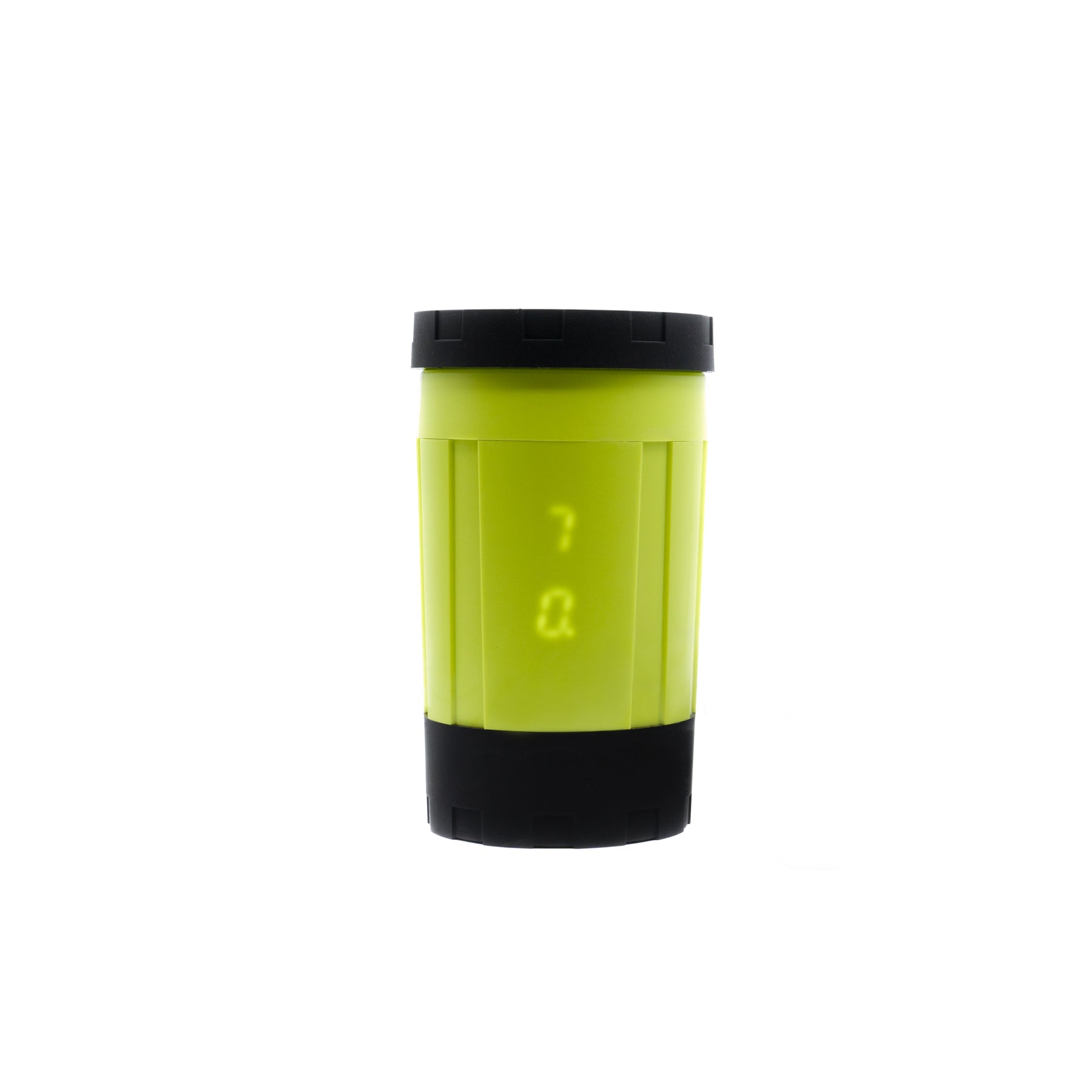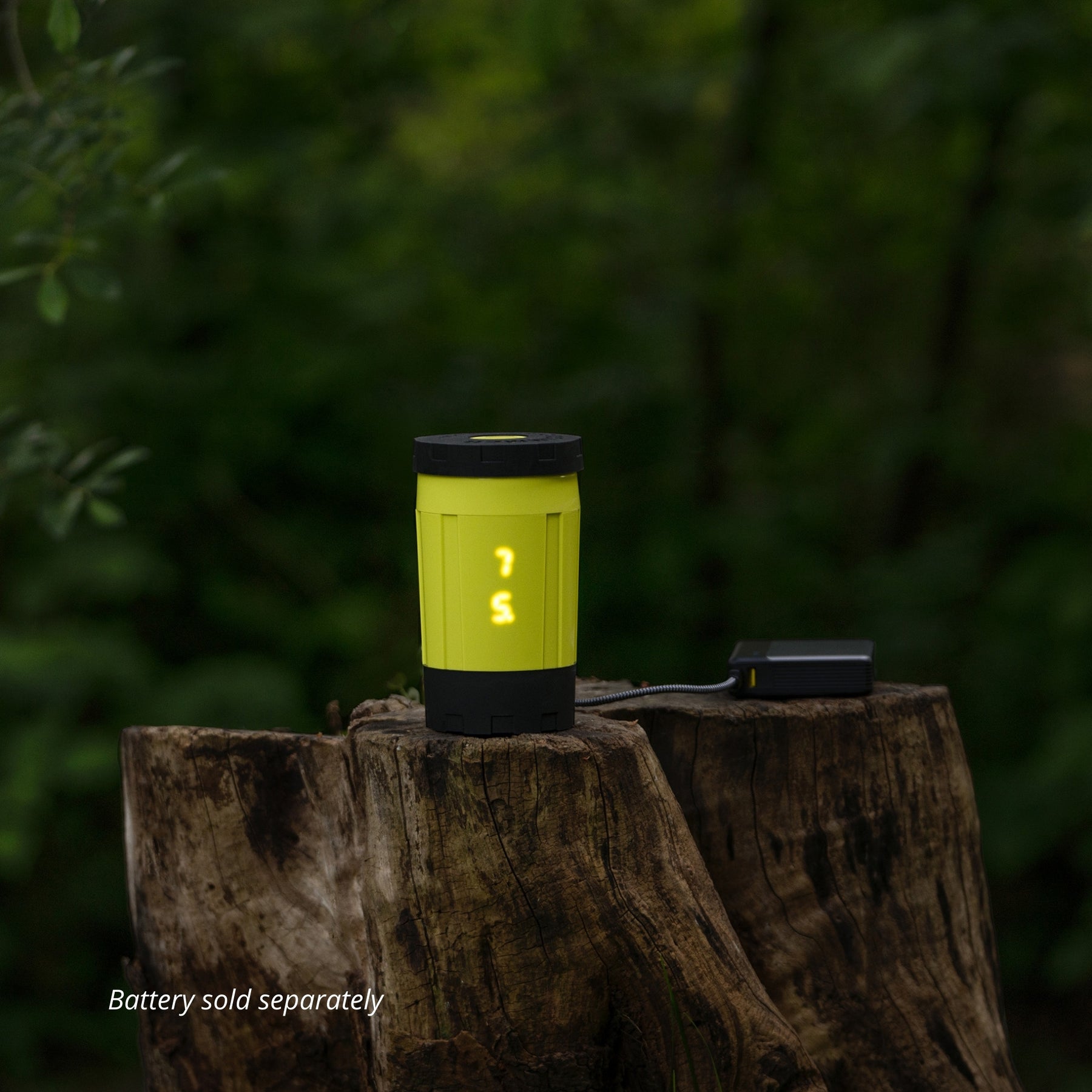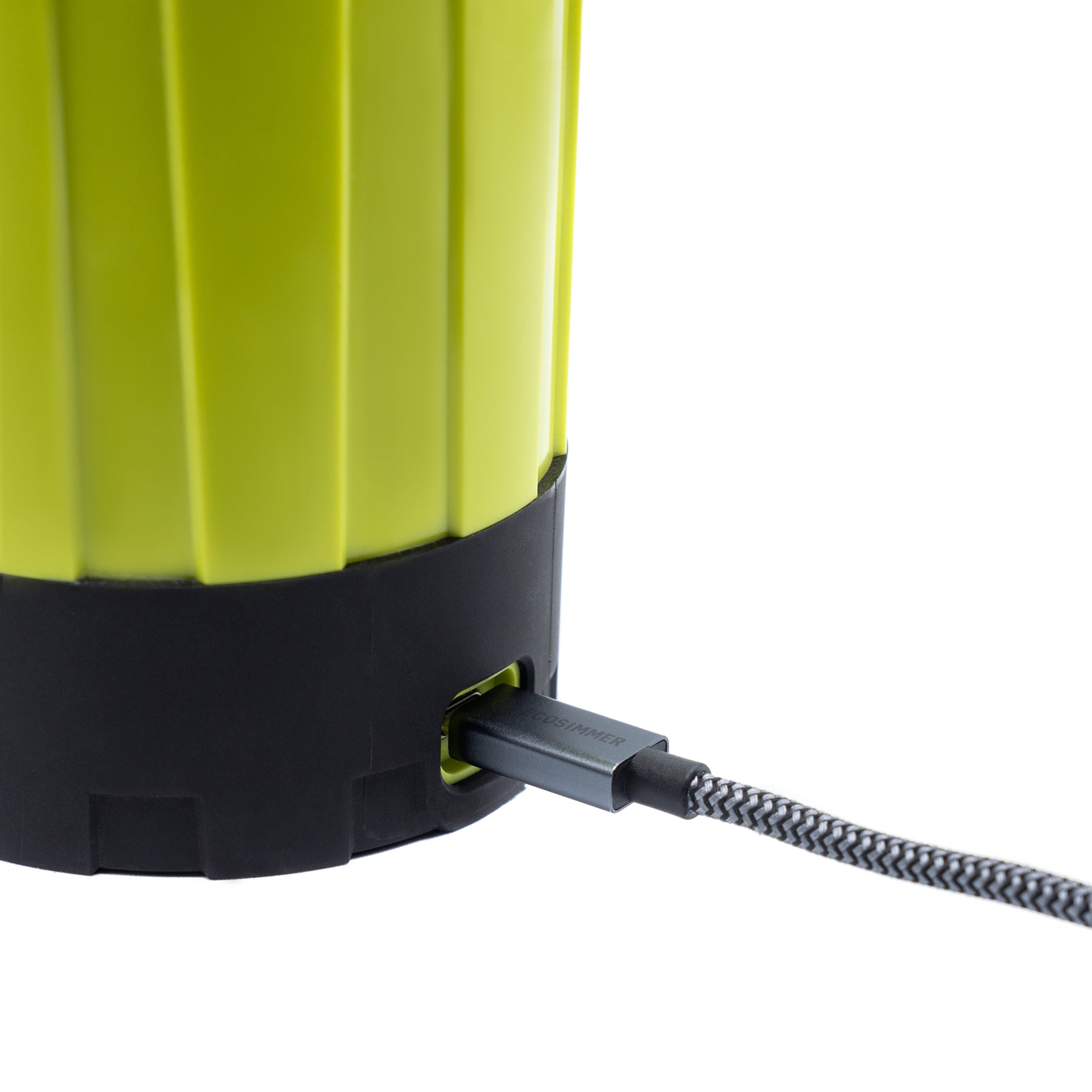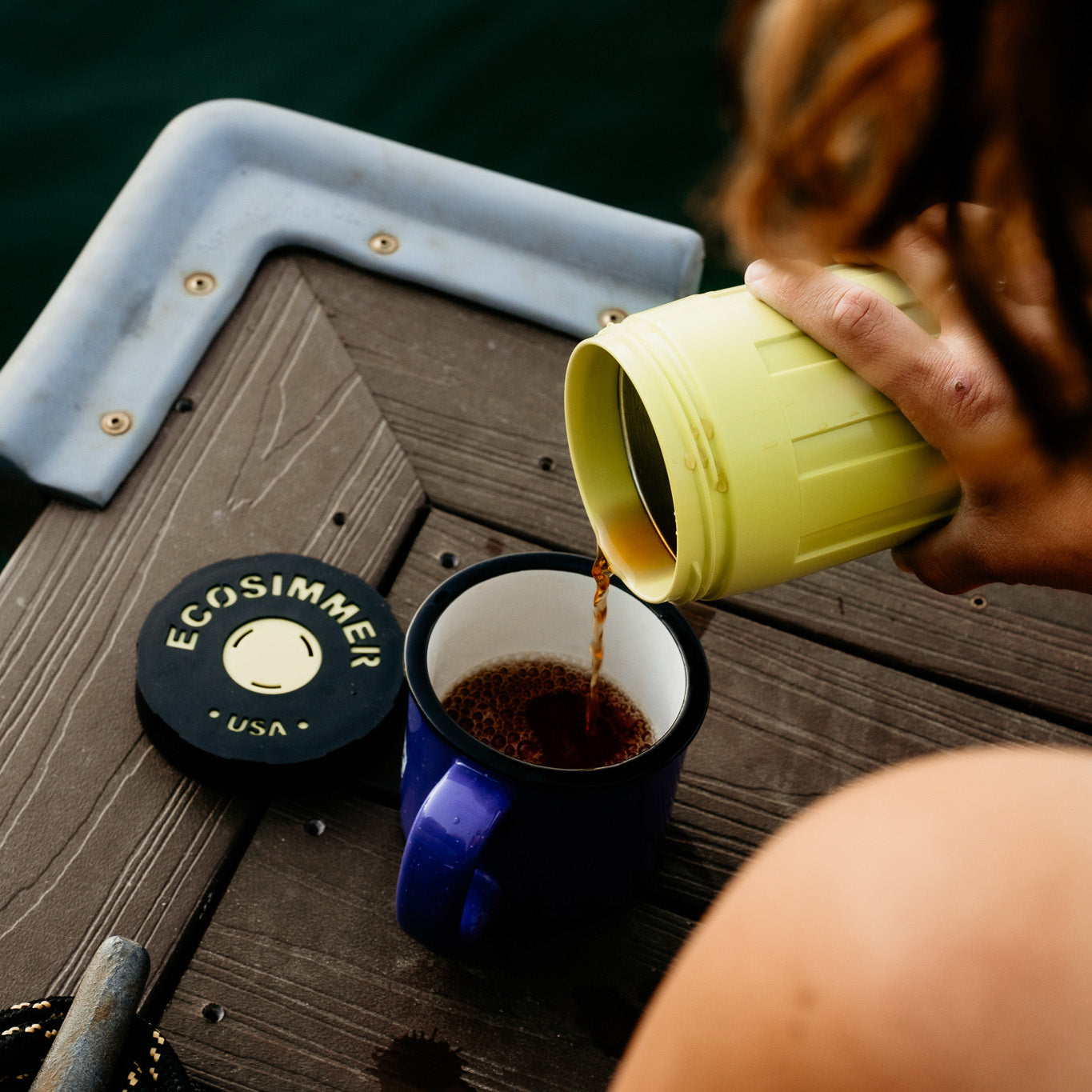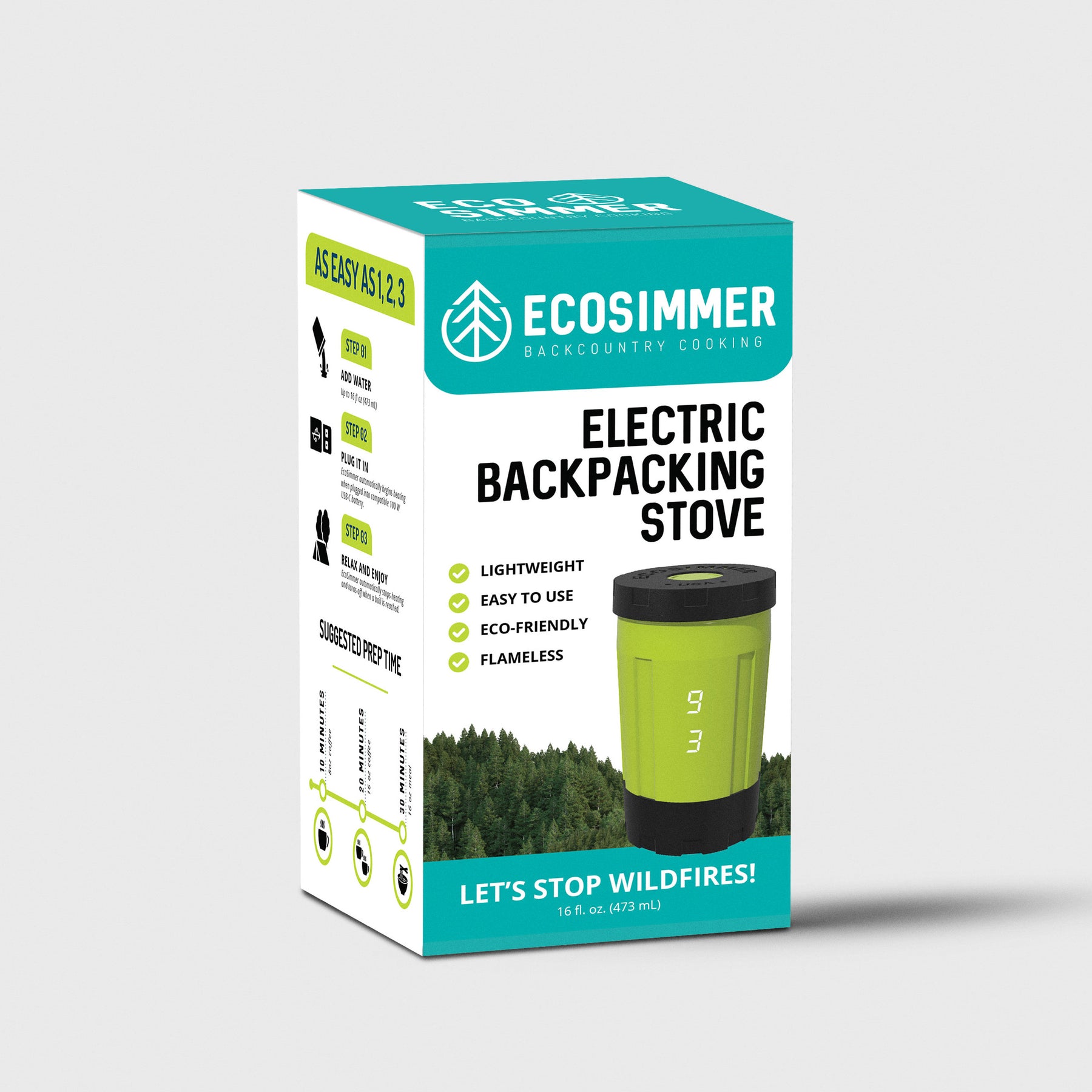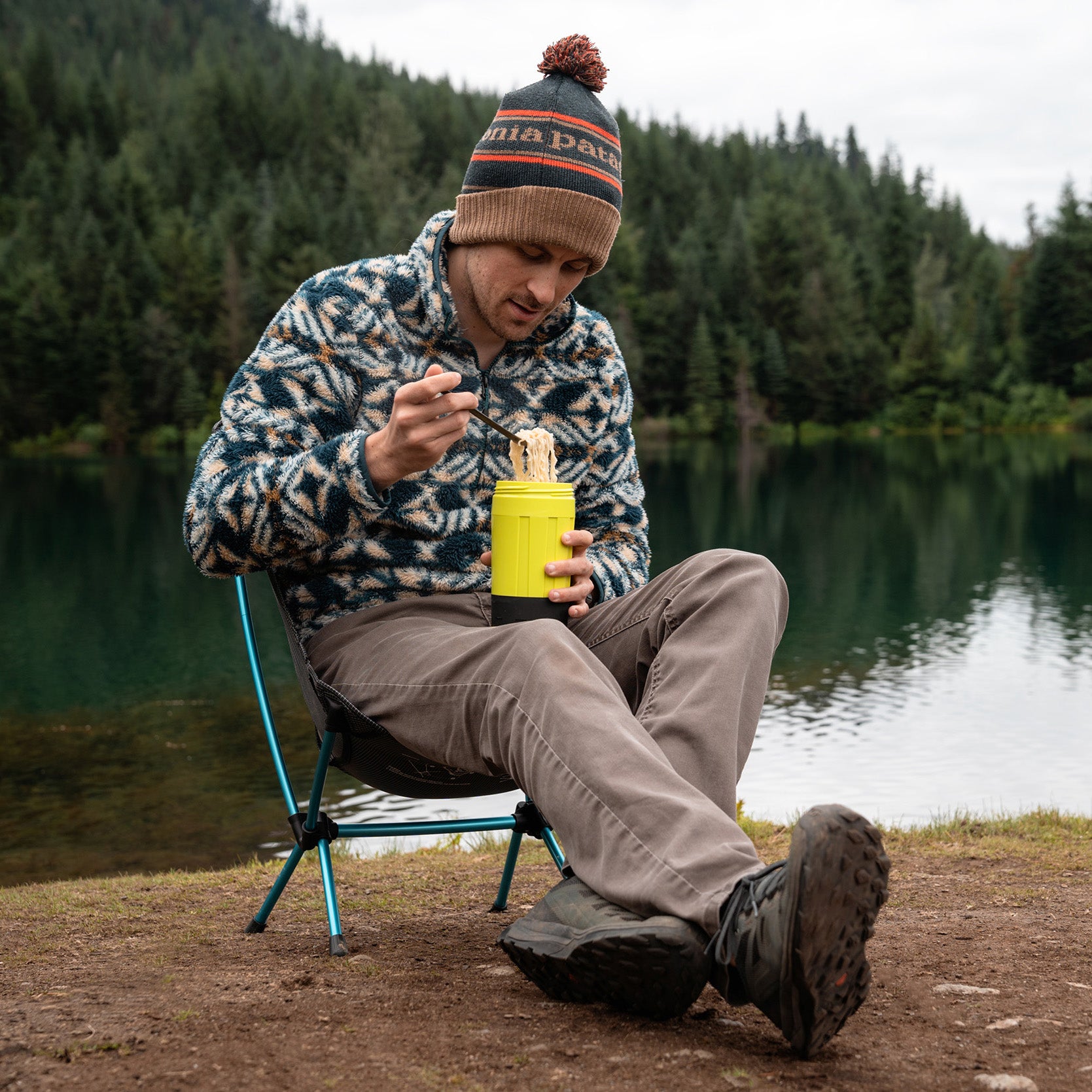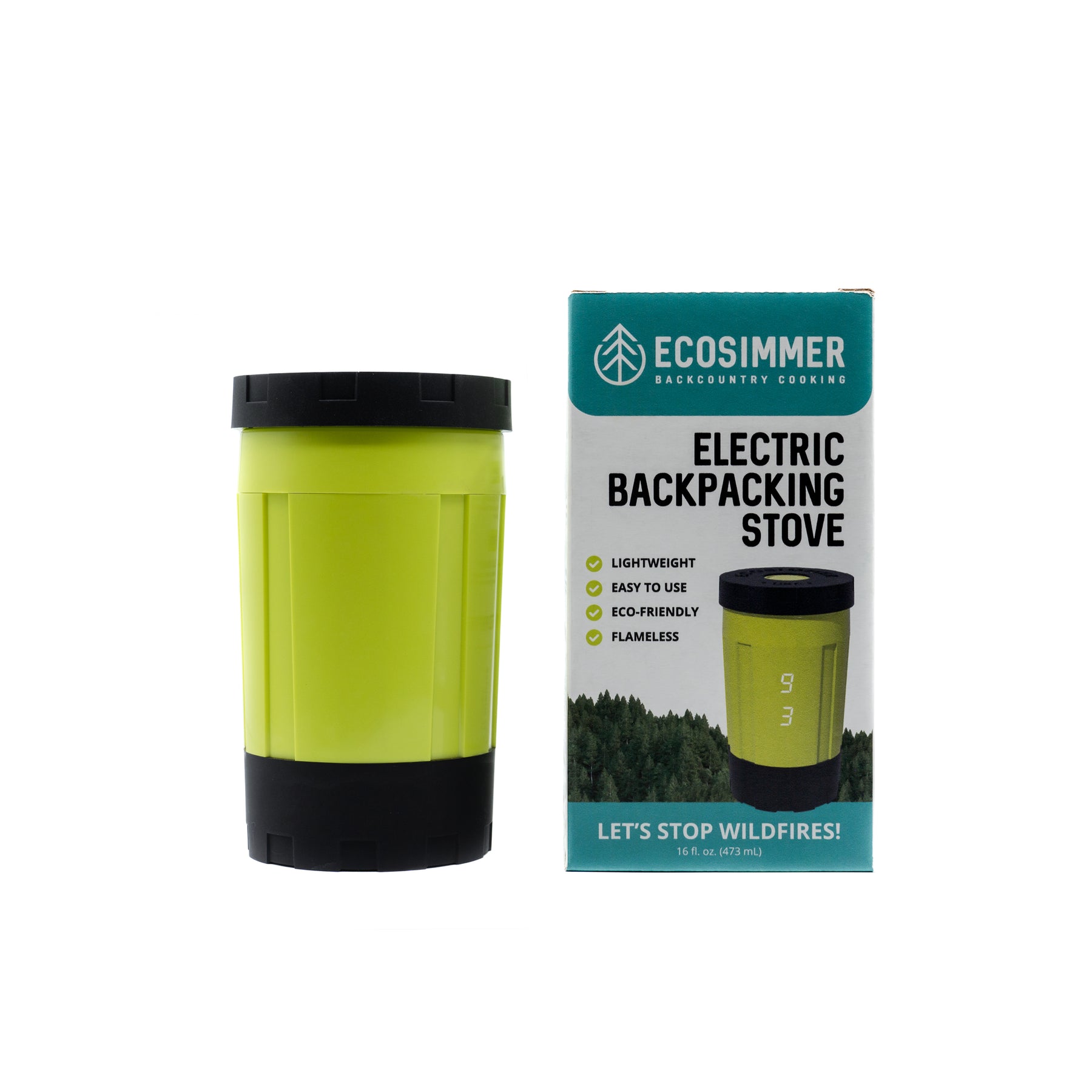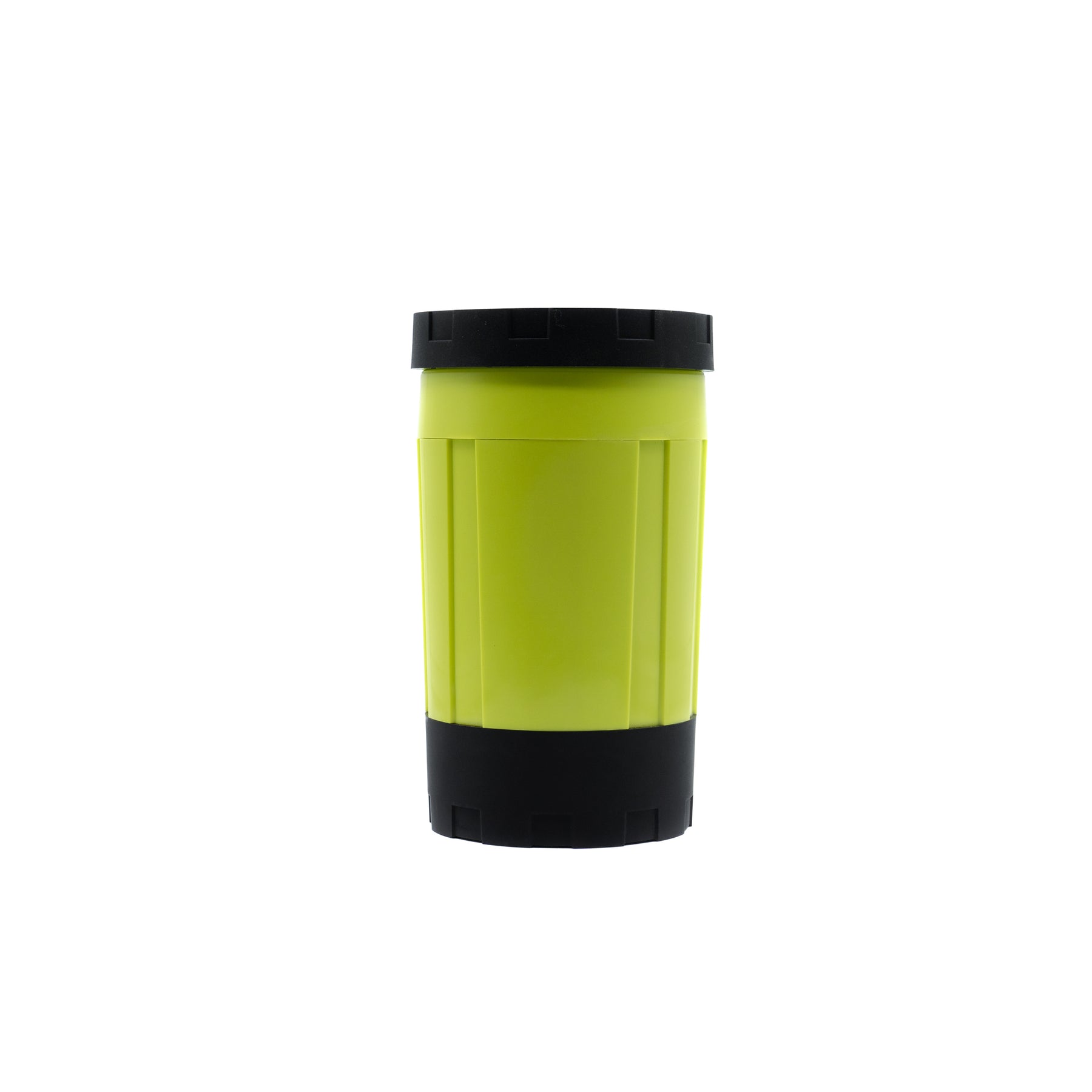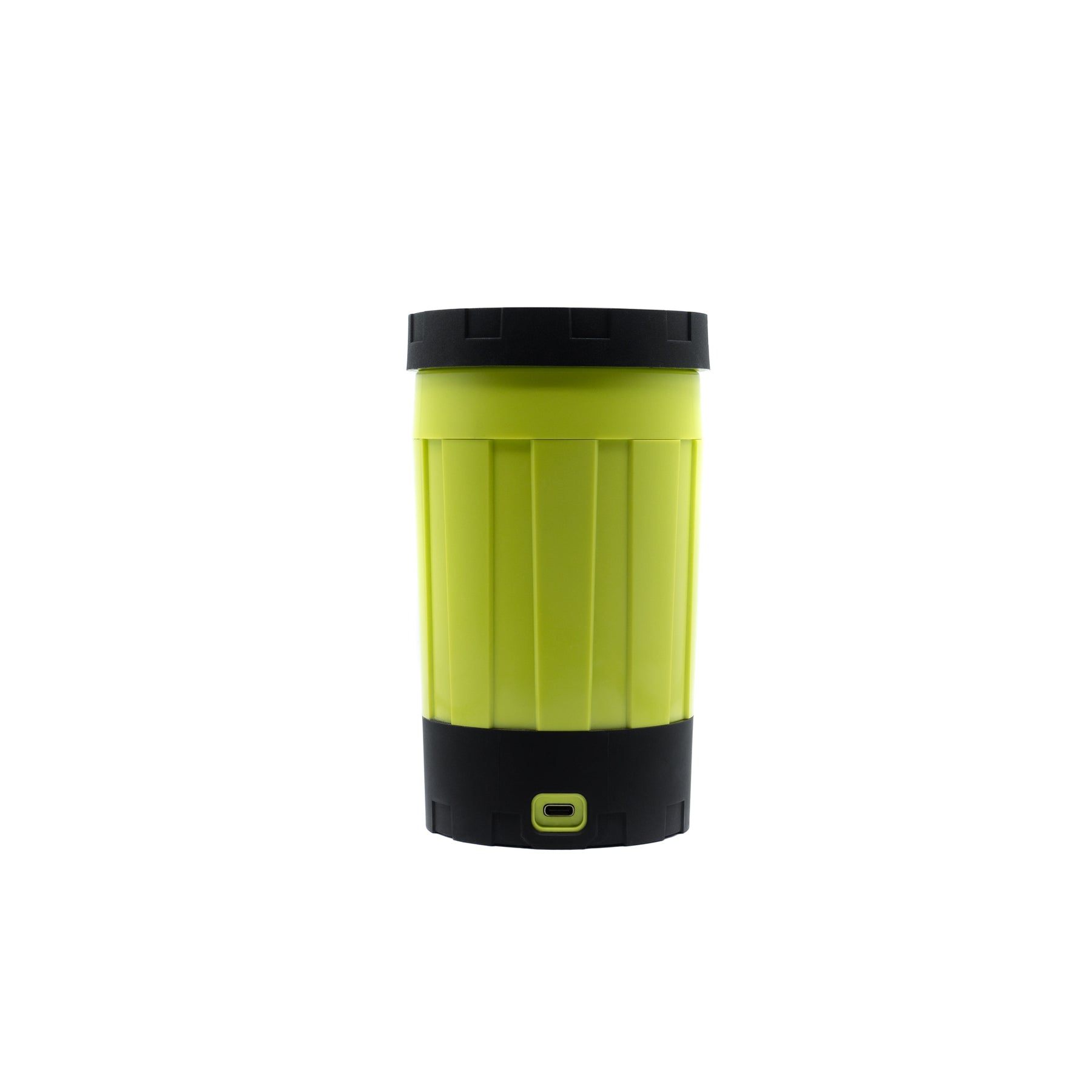 EcoSimmer Backpacking Stove
The world's first fully-electric backpacking and camping stove, designed to eliminate the need for fire, flame, and fossil fuel in the backcountry. EcoSimmer is lightweight, compact, easy to use, and makes hot meals and drinks for two.

No more pots, pans, lighters, or gas canisters! Just EcoSimmer, nature, and you.
• Easy to Use: Just plug in & relax
• Automatic on/off: no buttons
• Eco-Friendly: 100% electric and battery-powered
• Lightweight: Less than 1 lb
• Compact: Easily fits in your pack
• Large display to read temperature (ᵒC)
• Shock absorbent: tough, & durable
• Made with food-grade materials
• Patent pending

*Comes with compatible 100W USB-C cable. Battery sold separately (see our battery guide)
Specifications:
• Weight: 13.8 oz (0.4 kg)
• Liquid capacity: 16 fl oz (473 mL)
• Dimensions: 4.0 in x 6.7 in (10.2 cm x 17.0 cm)
• Water resistant: IP54 rated
• UL Safety Certified
• Power Source: 100 W USB-C*

Time to simmer/boil:
• 8 fl oz (237 mL) to coffee temp (10 min)
• 16 fl oz (473 mL) to coffee temp (20 mins)
• 16 fl oz (473 mL) to boil (30 min)

*Comes with compatible 100W USB-C cable. Battery sold separately (see our battery guide)
Flameless Power
Cook Anywhere with 100W USB-C Power
As Easy as 1, 2, 3
Step 1: Add water. Step 2: Plug it in. Step 3: Relax & Enjoy!
Portable & Lightweight
Easily fits in your backpack or day pack wherever you go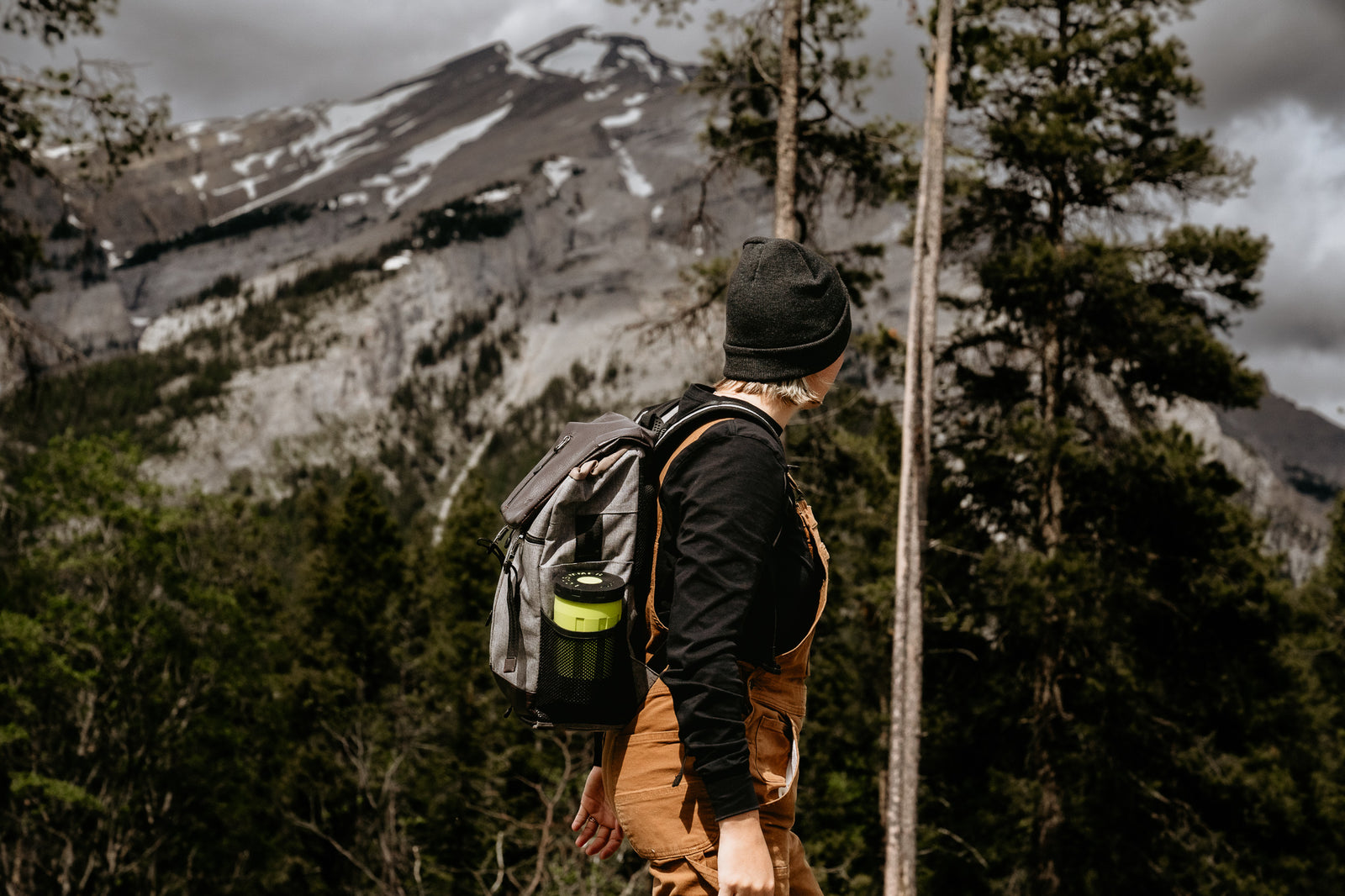 Eco-Friendly
Say goodbye to fossil fuels & keep the backcountry beautiful
What's the rush
Enjoy nature at your own pace
Don't stress about balancing pots and or staying nearby while you cook. Get back to enjoying the outdoors!

Time to simmer/boil
8 fl oz (237 mL) to coffee temp (10 min)
16 fl oz (473 mL) to coffee temp (20 mins)
16 fl oz (473 mL) to boil (30 min)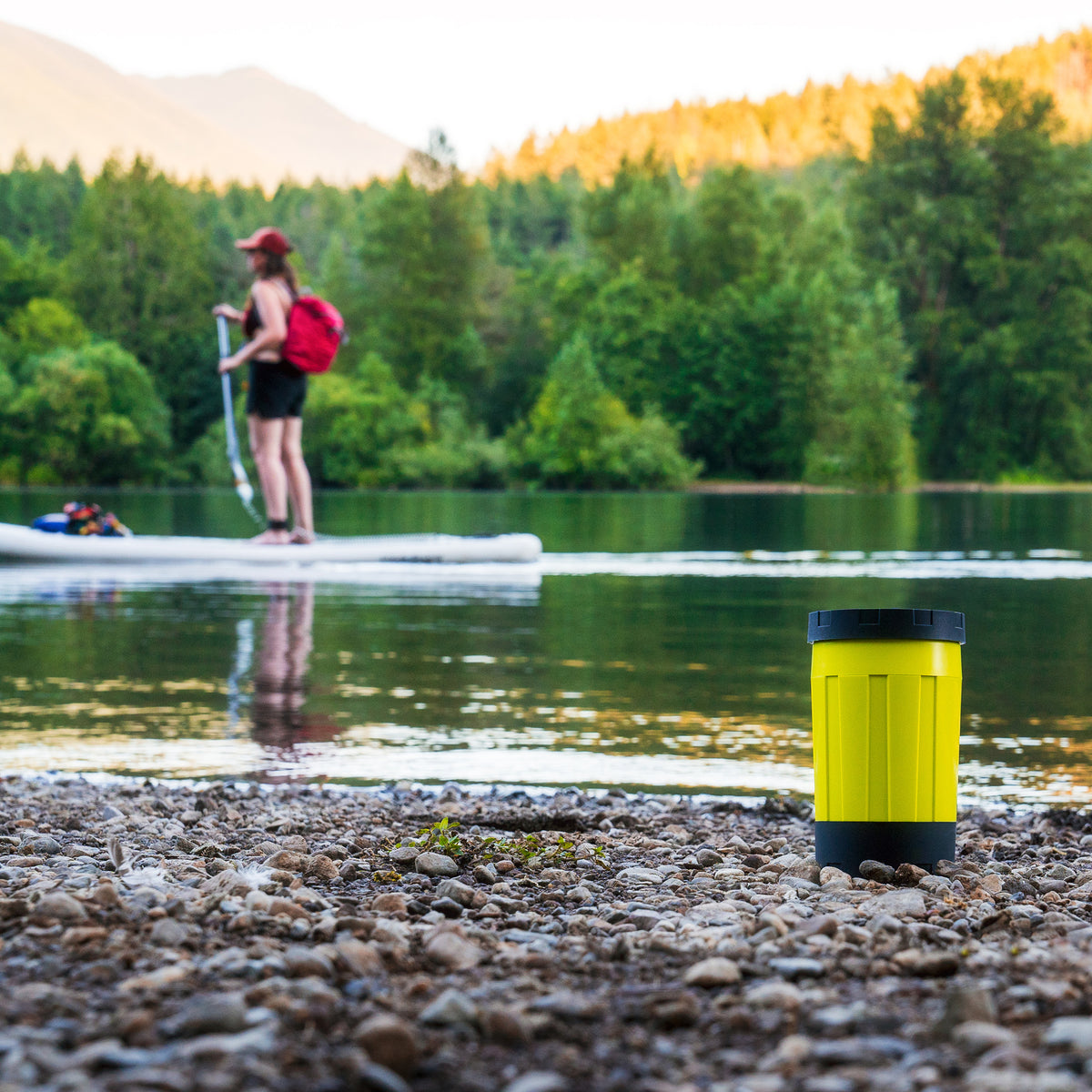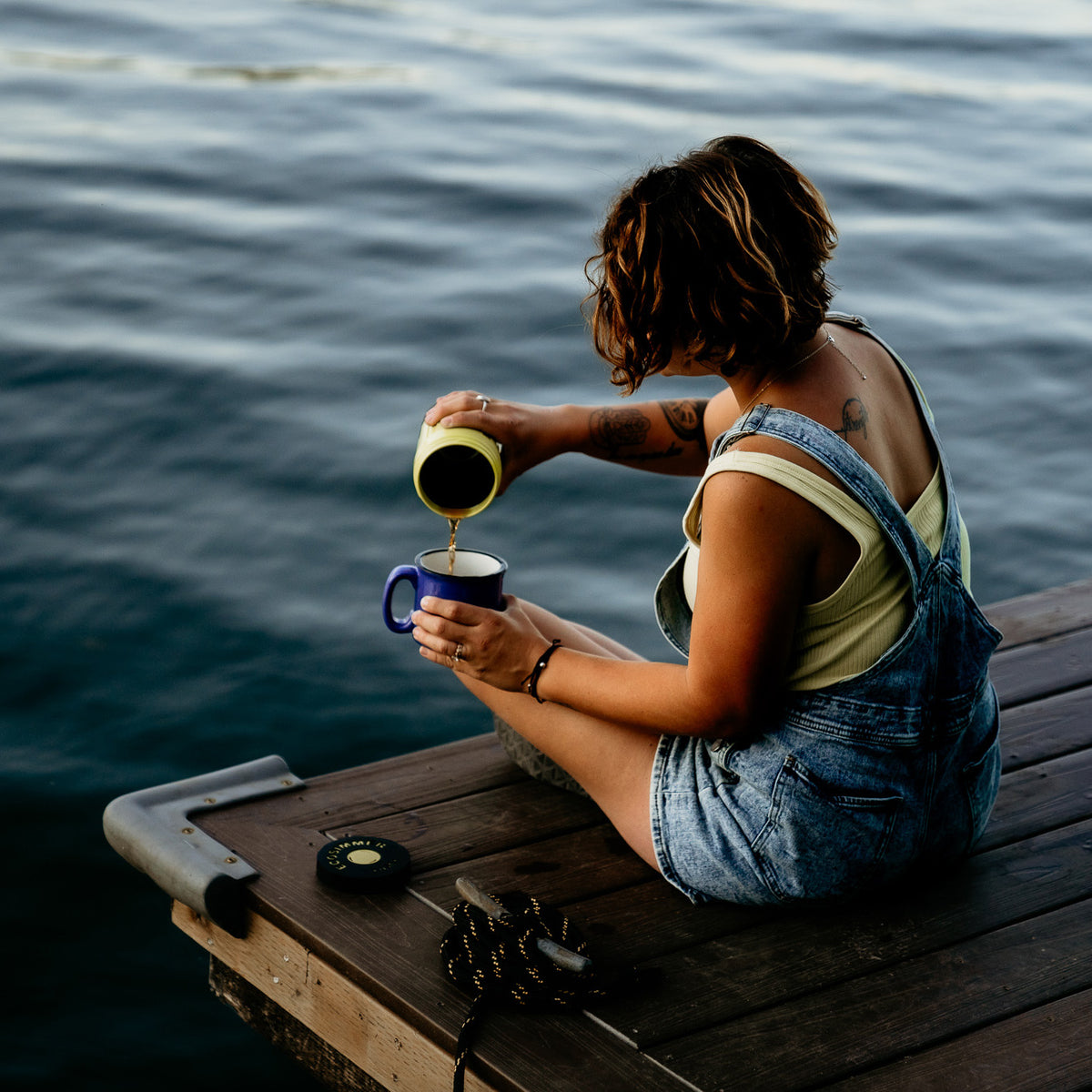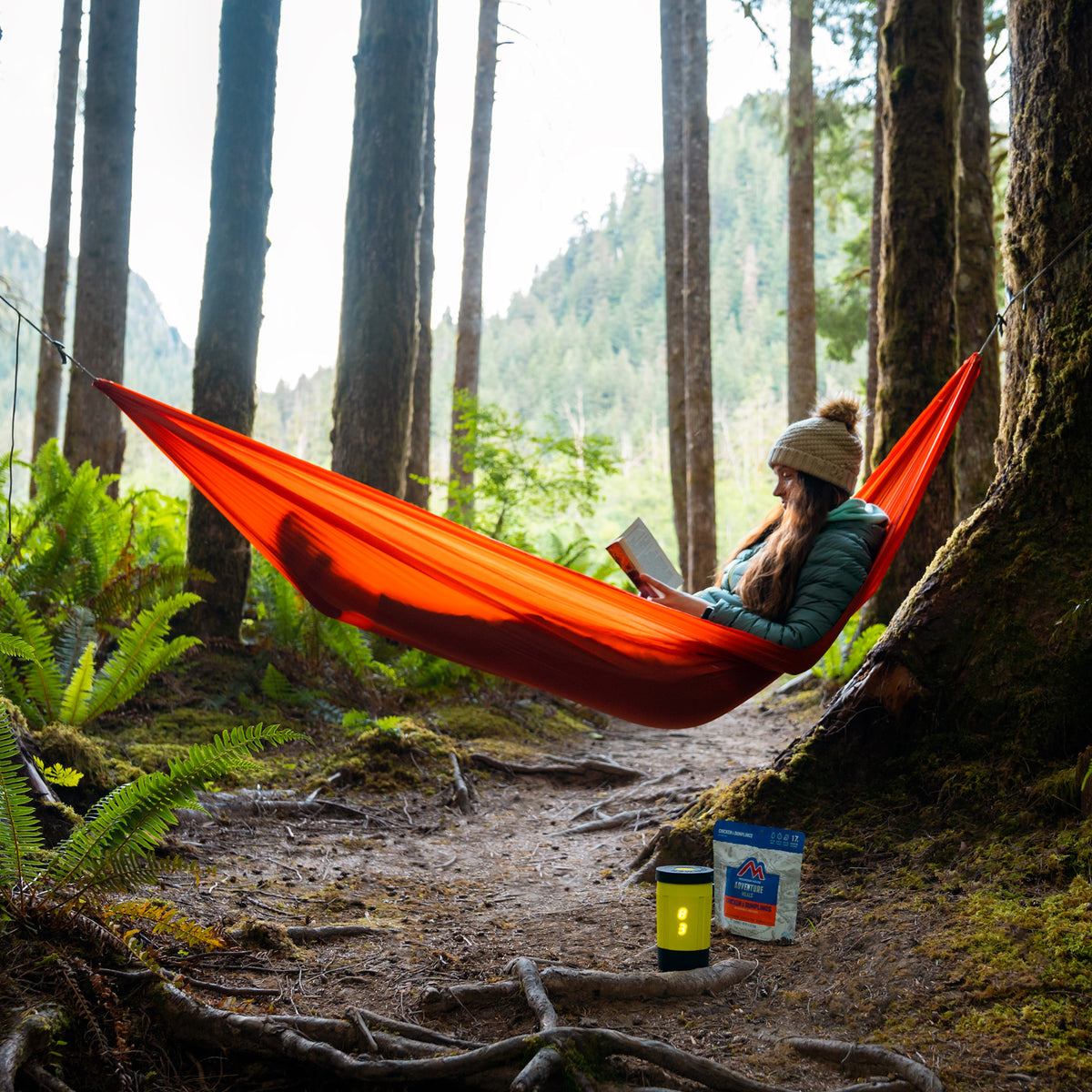 No. EcoSimmer comes with a cable but not a battery.
To pick the perfect one, check out our Battery Guide.
Turn ON: Simply plug EcoSimmer into a compatible 100W USB-C power source. It will automatically turn on and begin heating.  
Turn OFF: EcoSimmer automatically stops heating and turns off when:
- Unplugged from a power source
- A boil is detected
- No contents are detected
When turned on, EcoSimmer will display two numbers. Read them vertically as the temperature of its contents in Celsius. For example: when EcoSimmer displays "93", its contents are at 93ᵒC (199ᵒF).
Bonus: Generally, the numbers in Celsius can be interpreted as the % progress towards boiling as well.
When a boil is reached, the numbers flash rapidly, indicating that heating has stopped. EcoSimmer will continue to flash until unplugged.
To use EcoSimmer in the outdoors, you need 3 things:
1) EcoSimmer
2) USB-C cable that supports 100 W (included with EcoSimmer)
3) 100 W power source (sold separately, please see Battery Guide)
You do not need any pots, pans, lighters, or gas canisters!

Pro Tip: Bring a water filter.

Save battery energy and shave minutes off cooking time - use already purified water. EcoSimmer can boil water to purify it so no worries if you don't have one.
To guarantee compatibility, use the cable included with EcoSimmer.

If an alternative USB-C cable does not support power transfer of 100W, EcoSimmer may not function properly. EcoSimmer requires 100W. Not all USB-C cables are made the same, so please ensure that the USB-C cable included with EcoSimmer is being utilized to guarantee that a compatible cable is being used. Some USB-C cables support data transfer, some support power transfer, and some support both. Any cable rated below 100W of power transfer (such as 30 W, 45 W, or 60 W) will not work with EcoSimmer.
Hand-wash only.  
Wash EcoSimmer thoroughly before first use and after every use. Hand-wash using a cloth with warm, soapy water. Use mild soap and avoid cleaners containing bleach, chlorine, and abrasive or other harsh chemicals. Use extra caution when cleaning near the EcoSimmer USB-C port and do not let water come in contact with the USB-C port. The lid can be washed on the top rack of the dishwasher.
Yes! EcoSimmer is safe, durable, and eco-friendly. It has been tested and certified to UL and CSA 60335-1 by SGS.
See User Manual for additional safety considerations.
There are no dynamic settings to change the cooking speed of EcoSimmer, however there are several ways you can get hot food or drinks faster:
1) Try coffee temp – if your water is already purified and don't require a boil, try heating to a lower temperature.

2) Keep the lid on – to reduce heat waste and to ensure all heat goes towards warming up your food or drinks.

3) Use only as much water needed, no more – water will heat linearly, so removing half the water will halve the heating time and energy drain on your battery.

4) Start with warmer water – try starting with warmer water to reduce the temperature differential to coffee temp or to boiling temp.

As well, shave minutes off your cooking time by brining water to a coffee temp or to a simmer, not all the way to a boil.
212ᵒF (100ᵒC) Boiling Temp
158ᵒF (70ᵒC) Coffee Temp
68ᵒF (20ᵒC) Room Temp
32ᵒF (0ᵒC) Freezing